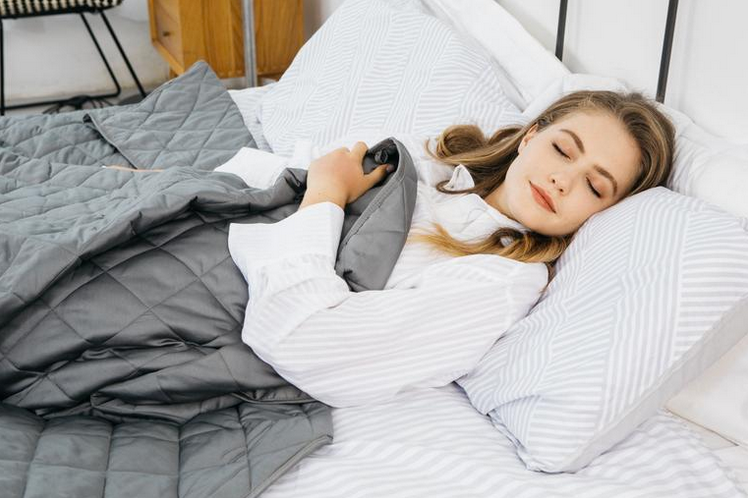 THE WEIGHTED BLANKET: A SIMPLE SOLUTION FOR BETTER SLEEP
If you have difficulty sleeping at night, you are not alone. According to the Centers for Disease Control, over a third of American adults do not get enough sleep on a consistent basis. Many Americans have turned to artificial medications in order to induce sleep. If you are looking for a more natural solution, a weighted blanket may be all the help you need.
What are weighted blankets?
Weighted blankets are designed to replace a traditional comforter, and are filled with varying types of pellets to add weight. The best weighted blankets typically use glass beads, as they provide the most reliable weight distribution. However, cheaper blankets sometimes use plastics, or other types of grains. It is recommended to choose a weighted blanket that is roughly 10-15% of your own body weight.
How do weighted blankets work?
Weighted blankets are designed to cocoon you as you sleep, giving you a feeling of comfort, safety, and security. The added weight of the blanket also helps to gently immobilize you, preventing much of the tossing and turning that causes you to wake up in the middle of the night.
Who are weighted blankets for?
Though initially popular among those experiencing insomnia and anxiety, weighted blankets have recently caught on among wellness enthusiasts everywhere, and among those who simply wish to feel cozier as they drift off to sleep.
How do I use a weighted blanket?
Because they are meant to cocoon around the body, weighted blankets are best for personal use. If two people sleep in a queen or king sized bed, it is recommended that you use two separate weighted blankets that correspond to your individual bodyweights. However, there is no right or wrong way to use a weighted blanket. And, though most are advertised as throw-style blankets, some users prefer to use the blankets under their sheets, or in place of a sheet. Ultimately, it all comes down to what works best for you!