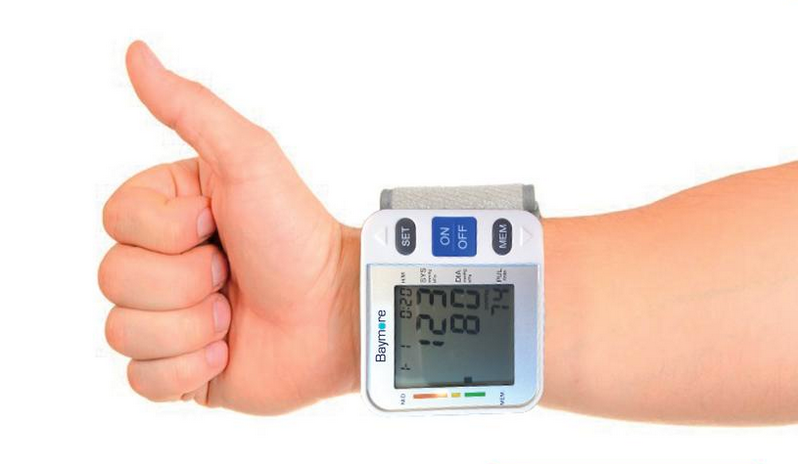 HOW TO ACCURATELY READ YOUR BLOOD PRESSURE
It is possible to take your blood pressure manually. However, for more precise results, devices like the Baymore Wrist Cuff Blood Pressure Monitor are a reliable and easy to use option. Regardless of what method you use, here are a few tips for how to get the most accurate blood pressure readings:
Sit comfortably at a table. Rest your wrist on the table.
Relax for 5-10 minutes before measurement. This is to allow your heart rate to settle at a normal level.
Be sure to keep your hand so that your wrist is at the same level as your heart during measurement. Measurements taken when the wrist is significantly below heart level can lead to inaccurately high results.
Remain still and keep quiet during measurement. Movement and talking accelerate the heart rate, leading to skewed results.
Avoid exercise, eating, drinking caffeine, tobacco, and alcohol for at least 30 minutes before you check your blood pressure, as these could lead to higher than normal results.
Measure your blood pressure at about the same time every day. Maintaining a blood pressure routine will allow for more consistent results over time, as your blood pressure numbers will be less liable to be thrown off due to external circumstances. For this reason, as well as the reasons above, the absolute best time of day to incorporate blood a blood pressure reading into your schedule is in the morning before you start your day.
Track your results. If you are looking to reduce your blood pressure levels, tracking your results can be a great motivator. Some monitors even have a built in function that lets you save your readings with a time stamp and look back on them in the future.
We hope that these tips are helpful for you, and we appreciate your interest in us!