The Ultimate Guide to Weighted Blankets
Simplylifehome and its associates write about products to help you navigate when shopping online. Simplylife llc could receive a commission from our partners when you purchase through our link. We also carry partner brands through simplylifehome.com, which we purchase at wholesale and receive a profit when we sell such products. However, the recommendations and reviews are independent and objective.
This review is prepared by Bahr & CO, for the Southern California Journal of Sports Medicine Review, July 2019
If you've been suffering from insomnia and feel like you are dragging on the way to work each morning, the solution could be as simple as a weighted blanket. A weighted blanket provides a comforting sensory need that can calm anxiety and promote healthier sleep habits, allowing you to get the rejuvenation you need. With the immense popularity of these blankets becoming mainstream, there are several different types of constructions and methods companies have taken to give you a better product. We are here to provide you all the facts for your next sleep assistance purchase.
Material: Materials vary widely depending on the brand you choose. In general there are 3 types: polyester, cotton, bamboo:
Polyester is a cheap material derived from manmade material, such as oil. They are great for the value and very useful for performance fabric because they keep heat in, but these fabrics are harmful to the environment, and non-biodegradable.
Cotton is a natural fabric. It is friendly to the environment, great at temperature regulation, and hypoallergenic. We believe this to be the best material to be used in bedding products.
Bamboo is another great material to use. It is effective in cooling the skin. However, during the production, a lot of chemicals are used in treating the bamboo fiber to make it soft enough to be weaved into fabrics. As a result, they may contain harmful residue, and create a lot of toxic chemicals during the manufacturing process.
Construction: Weighted blanket has come a long way since first introduced. Now different companies make their blanket a little different to combat leakage and increase comfort. Generally, blanket with tighter pockets provide a more even weight distribution. The layers of fabrics and material used for filling also help with comfort and prevent leakage.
In this independent study we went through over 99 weighted blankets currently found on amazon.com and in store. We evaluate and rank the top blankets based different factors such as blanket constructions, material used, customer reviews, design, quality, and product variety. Check out the options of weighted blankets that we've found to be the best.
---
Simple Being
Editor's Pick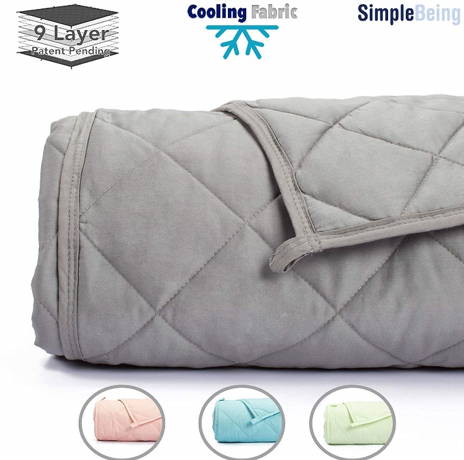 Really this blanket is summed up by saying quality. This weighted blanket made our cut first with the competitive price that all the others seemed to have and the color variety offered, but we were surprised when we got into the details to find that this blanket offers by far the better product than all the competitors. In terms of construction, they have a patented 9 Layer Construction which combats leakage, and because of the extra layers, it also makes the blanket much more comfortable. The inner stuffing is cotton, which is something we do not see in over 90% of the blankets we reviewed. It is effective in regulating body temperature so you don't feel too hot in the blanket. The tight pockets are also the smallest in the industry, making beads movement virtually nonexistent. The top fabric uses high quality 300 thread count cotton which is better than the quality most 5 star hotel uses. The duvet cover they offer is also different to the typical boring grey pattern which we think it's a plus. This is by far the best weighted blanket we found.
Material                       5/5
Quality                         5/5
Price                             5/5
Comfort                       5/5
Variety                         4/5
Customer review       4.5/5
Overall                   5/5
---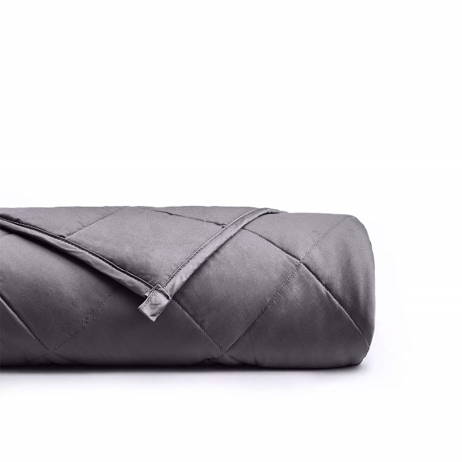 Chances are if you have talked to someone who has been using a weighted blanket, they have a YnM brand. Everyone seems to have them, and it made our list too. Coming in as the set standard and one of the originals with a large selection of weight options, YnM is one of the few companies to make weighted blankets available to all. They make great 5 lb and 7 lb blankets, to be used by kids who weigh roughly 40 lb and 60 lb, respectively. With a larger variety of weights and prints, YnM is the choice blanket for the children. Weighted blankets can be a great way to help your little one feel nurtured through the night, especially when learning to sleep alone in their own bed. Their blankets are 7 layers, which also provides great comfort. As this is the industry standard, the polyester filling tends to be a little hot, and there is bead movement from larger square pocket width. The polyester fabric is also a turn off for us as it is not breathable.
Material                       3.5/5
Quality                         4/5
Price                             4/5
Comfort                     4/5
Variety                         5/5
Customer review     4.5/5
Overall                   4/5
---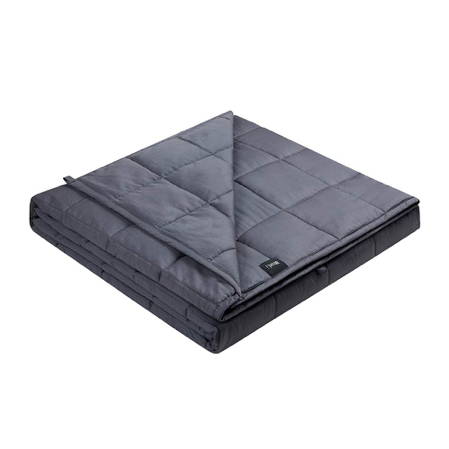 If you are looking for a blanket to match your exact weight specifications, ZonLi offers 14 different size/weight variations. These blankets provide good comfort and a value price. ZonLi also offers smaller sizes that are suitable for children and are usually priced lower than YnM blankets making it our value pick. Their blankets are also 7 layers, with identical pocketing and fill construction to YnM. Summer becomes an ideal time for their bamboo breathable varieties. They have several neutral colors in their core blankets. Though they don't have duvets in their main page on amazon, they have a separate listing with the bargain value duvets found here: Zonli Duvets. The quality of the blankets here also seem to be better than YnM, with slightly smaller pockets and higher stitch count.
Material                       3.5/5
Quality                         4.5/5
Price                             5/5
Comfort                     4/5
Variety                         5/5
Customer review     4.5/5
Overall                   4.5/5
---
The Gravity Blanket
The Original Choice
Gravity blanket is the original weighted blanket in the industry, and the price demands it. At the top of the weighted blanket price spectrum coming in at $249 USD, the Gravity Blanket comes in grey, navy, and white, and stands out for its supple exterior. Its gridded stitching is smaller than most of its competitors, giving it an even bead distribution. The Gravity Blanket also comes with a micro-plush duvet cover, making it easier to wash. However, we notice the construction is 5 layers, which is prone to leakage. Of all the brands we reviewed. Gravity stands out as they are available in many retail locations such as Brookstone, B8ta, etc.
Material                       5/5
Quality                         4/5
Price                             1/5
Comfort                     5/5
Variety                         2/5
Customer review     5/5
Overall                         3.5/5
---
Who Should Use Weighted Blankets?
Weighted blankets are perfect for anyone who is looking for a natural way to sleep more soundly through the night. Whether it is problems at work, relationship problems, or even just the constant agitation of the 24/7 news cycle, we all have stressors in our lives that hum around in our heads and keep us up at night. To cope, many people have turned to synthetic remedies, such as sleeping pills, to essentially turn off their brains for the evening. However, studies have shown that these pills do not induce the proper type of restorative REM sleep that is ideal for waking up feeling rejuvenated. This can lead to feeling groggy well into the next morning. For this reason, many are turning to weighted blankets, as they provide a more natural form of relief from the stress that interrupts sleep. Designed to cocoon around the user's body, weighted blankets provide a gentle downward pressure that helps to prevent tossing and turning during the night, while calming users' nerves. Weighted blankets have rapidly become a must-have sleeping aid in hundreds of thousands of households worldwide, because of their effectiveness. If you are looking for a more natural way to experience a good night's sleep, give a weighted blanket a try!
Weighted Blanket Benefits: The Science Behind Weighted Blankets
Weighted blankets were initially developed as a comfort tool to soothe anxiety symptoms related to autism. After witnessing their positive impact on the autistic community, those experiencing insomnia and general anxiety began to use weighted blankets, finding that the gentle gravitational pressure that the blankets provide eases their symptoms. Through word of mouth generated by this core group of users, weighted blanket use has skyrocketed in recent years, as hundreds of thousands of initially skeptical users have quickly been converted into die-hard fans. What is the underlying science behind the benefits of weighted blankets?
To put it simply, being wrapped up in a weighted blanket gives our bodies a nurturing sensation similar to the feelings of receiving a hug. It has been shown that our brains respond to this sensation by releasing more of the hormones oxytocin and serotonin, respectively known as the "love hormone," and the "happiness hormone." Because these hormones are inversely correlated with stress levels, the release of more of these hormones into the body helps to soothe users' anxiety, thereby enhancing overall sleep patterns. But don't just take our word for it! Even America's leading hospital system, the Mayo Clinic, has recently expressed excitement over the benefits that weighted blankets can provide to everyday users!
Watch now: Mayo Clinic Minute: How weighted blankets may lift anxiety
---